The Content Locker WordPress plugins are in great demand among the content marketers and bloggers as these Content Locker WordPress plugins can add great value to online content and take the online business to the next level.
Content Lockers come with multiple powerful features to augment user engagement and social credibility. With an efficient content locker, you can make users like, share, or subscribe to your post in order to increase your online business credibility.
It is an excellent way to increase visitor engagement without putting in hard efforts. So, if you wish to procure all the benefits of these content lockers, then you can check for the top 6 Content Locker WordPress plugins mentioned below.
6 Best Content Locker WordPress Plugins 2023
Content Locker Pro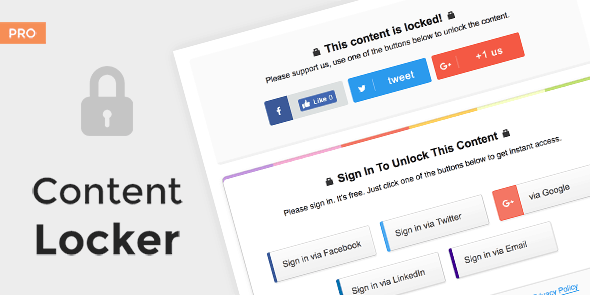 It is a premium plugin that can offer you with numerous exclusive features. This plugin comes with two distinct locking and 16 appealing designs. The best thing is that this plugin works well with any free or paid theme.
Even if you have an already established website, you can still lock infinite contents with ease by using the batch locking feature. This plugin is light in weight, and hence, does not impact the loading speed of web page.
With mobile-friendly coding, you can use this plugin to create responsive and compatible websites and even disable content locking for the registered users. This plugin offers complete support for AWeber, Getresponse, MailerLite, MailChimp, and Mad Mini, which means it is amazing to enhance email subscription base.
Bloom Plugin
Priced at $89 per year, this is the newly introduced plugin from the Elegant Themes group. This plugin might sound slightly expensive, but it is truly worth it.
It is an elite and professional plugin that houses numerous exclusive features and can give a huge kick to your email subscription. From pop up, Fly in, to below post, Inline, Locked Content, and widget there are various options offered by this plugin.
There are even distinct display options, like slide right, light speed, bounce, tada, zoom in, and swing that could be set as per your preference. Multiple email accounts, detailed statistics, import, and export are the optimizing features of this plugin. This plugin houses all the features that you can expect from a premium paid plugin.
Social Share and Locker –Pro
Another amazing content locker plugin in the list is Social share and Locker-pro, which is a premium plugin offering multiple great features. It offers great content locker features, opt-in popups, and numerous exclusive themes.
The presence of shortcode feature makes it very easy to use. Also, the plugin comes with a visual composer with which customization is very simple and easy. Social full name, share counter, exclusive animation options make it an excellent WordPress plugin.
It is a high-standard plugin that offers flat icons and exclusively impressive themes to showcase the content locking widget.
One Press Social Locker – Free
It is free of cost plugin yet offers numerous exclusive features and premium functionality. Despite being free of cost, it offers excellent features, such as three social buttons, SEO compatibility, analytics, and more.
There are 4 distinct sorts of locks offered by this plugin that you can select on the basis of your requirement. You can select any of them and even add a creative zeal to your design by selecting the default pattern or by customizing it as per your needs.
Another amazing feature of this plugin is that it does not impact the page loading speed and even optimize the pages for mobile and other gadgets. Developers would love this plugin as it offers distinct hooks and unique customization levels within the plugin.
You can select the premium version of this plugin where you need to pay a certain amount in order to procure other great features of this plugin. Social media support on robust platforms like YouTube is one of the features offered by the premium version. Lastly, you can export the lead easily to CSV with the use of this plugin.
Viral Social Content Locker
The Viral Social WordPress Locker is another premium and exceptional locker plugin that can easily lock the content of the blog.
If you already possess a social sharing plugin or you just want to update the present plugin, then you can go for this WordPress locker plugin without having a second thought. It is an excellently documented plugin that provides a range of excellent options to unlock the content. With this plugin, you can either lock a paragraph or entire content.
You can ask your users to offer their Facebook like Tweet, or Google +1 about your website to go through the premium content. Besides offering basic content locking attributes it is an excellent plugin to secure your content.
There are numerous customization options offered by this plugin. The localization support is an exclusive feature offered by this plugin.
Opt-In Content Locker
While using inefficient plugins can generate a negative impact on SEO, still you can overcome this trouble by using the Opt-in content locker plugin.
It comes with a support feature for simple locker mode that allows the search engine crawl the content while keeping it locked at the same time with the use of JavaScript.
With more than 60 plugins and being cache friendly, you can increase the number of your subscribers with ease.
These are some of the finest Content Locker WordPress plugins that can offer you with unique features. If you are not sure how much you would be benefitted with these Content Locker WordPress plugins, then you can begin with a free plugin first.