Joomla template framework helps developers to develop templates as per clients' preferences or as per their choice.
The template framework is like a clean slate where developers draw pictures of their choice by using the available variable like colors, dimensions, margins, etc.
There are many frameworks made available by developers who work entirely with Joomla technology. There is no doubt that extreme competition has intensified the innovation.
However, it is not that possible for a true website developer to accept one particular Joomla template framework as every framework address some bit of technical glitch that has been solved by another template framework like browser compatibility, generic modules, or HTML 5 issues, etc.
How to choose the best Joomla Template Framework? 
Joomla is a powerful and vast CMS having the second largest user group around the world. And choosing the best Joomla template framework is really a tricky part. You have to consider many things before you opt for any. Below are the six critical aspects that must be followed by a web developer while selecting a Joomla template framework.
Layout flexibility: It is the topmost important factor. Why? Layout flexibility is what visible in the front end. So, choose a framework that adjusts the module position nicely without any distortion.
Easy usage: The second most criterion is easy to use. A flexible user interface is only possible when best practices have been utilized in coding. This further makes a developer's life easy while using the framework.
Stability: In the development face of any software, if it stops unexpectedly then the efforts may go vain in seconds. That's why stability is also a very important factor.
Feature-packed: A framework should be packed state of the art features or has the ability to accommodate new features flawlessly.
Mobile friendly: Compatibility is the major issue nowadays. Without these, you can not reach the growing no of mobile internet users.
Upgrades: When a new version of software releases, it should be available to the end-user at ease. So, you can ensure the latest technology has been used at all times.
Remember the above parameters while choosing your Joomla Framework.
Astroid Framework
Astroid framework is a highly customizable, fully responsive modern, and flexible Template Framework for Joomla. Astroid has an excellent support forum, theme documentation, email support 24/7.
Key Features:
Fully Responsive Grids
Highly Flexible
Mega Menu
Layout Builder
Present System
Unlimited Color
CSS and JavaScript Compression
RTL Ready
Built with Less
Mobile Menu
Social Icons
Custom Code
Unlimited Font Configuration
Font Awesome Icons
[su_button url="https://www.astroidframework.com/" target="blank" background="#4829e8″ size="7″ radius="0″ rel="nofollow"]More Details[/su_button]
Helix 3 Framework
Helix is a robust and sophisticated Joomla template framework. It is highly customizable and very easy to integrate to develop a custom Joomla 3 website.
Everything is already in it to quickly start a new Joomla project, so you don't need to install anything after installing Helix. Perfect to use as it is or blank.
It is designed in such a way so that you can work faster using state-of-the-art technologies and workflows, without being trapped by the other popular frameworks.
Key Features:
Drag & Drop Layout Builder
Page Builder Integration
Megamenu Builder
Post Formats
600+ Google Fonts
Unlimited Colors
Made With Bootstrap 3
Retina Ready
CSS & Javascript Compression
Logo Option
Custom Code
Integrated Social Comments
Social Share
Social Icons
Fluid and Boxed Layout
Coming Soon Page
RTL Ready
Responsive Design
FontAwesome 4.4
404 Page Error Page
Sticky Header
[su_button url="https://www.joomshaper.com/joomla-templates/helix3″ target="blank" background="#4829e8″ size="7″ radius="0″ rel="nofollow"]More Details[/su_button]
T3 Framework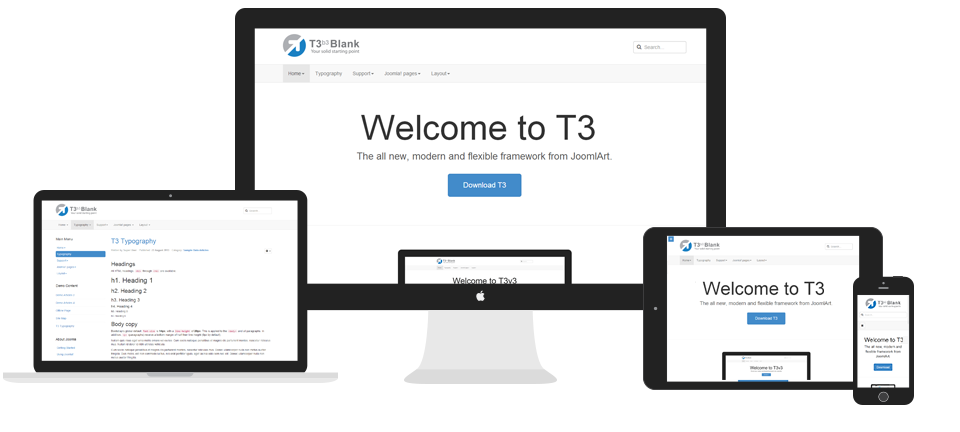 T3 is one of the popular Joomla template frameworks. A Team from Joomlart has dedicated 5 long years to bring T3 in reality.
Its reached features overwhelmed many of us. T3 hits the beat finally with the brand-new look and design approach. Its incredibly robust customization features leave everyone speechless.
Key Features:
Bootstrap Integration
Utilize LESS
Fully responsive
Megamenu Support
ThemeMagic
HTML5 Ready
Content +
Multi Themes Supported
Faster and Easier
Advanced Typography
Multi-Layouts Supported
Visual Customization
Font Awesome
Flat Design
Flexible Layout System
Real-Time Customization
Fully Compatible with Joomla 3.0x
[su_button url="http://www.t3-framework.org/" target="blank" background="#4829e8″ size="7″ radius="0″ rel="nofollow"]More Details[/su_button]
Gantry Framework
RocketTheme has introduced the Gantry framework in 2010, later entered in one of the indigenous Joomla template clubs. About a few years ago, the Gantry framework did some major changes.
The all-new Gantry 5.4 offers a fully responsive layout and integration with the famous Twitter Bootstrap framework.
Key Features:
Layout Manager
Fast & Lightweight
Visual Menu Editor
MegaMenu Support
Ajax Admin
Unlimited Undo/Redo
Sophisticated Built-in Fields
SCSS / LESS Support
Theme Inheritance
Powerful Particle System
Off-Canvas Panel
Twig-based Templating
YAML-based Configuration
[su_button url="http://gantry.org/" target="blank" background="#4829e8″ size="7″ radius="0″ rel="nofollow"]More Details[/su_button]
While many of these Joomla template frameworks feature substantial control panels and tons of module positions, don't let these reasons alone be the determining factor for your site. You might not be using all of the module positions available.
In addition, you will spend a small amount of time in the control panel when the site is developed. So, I would recommend installing one of the free frameworks & spend some quality time exploring the features.
Then try installing another and compare the two. These Joomla template frameworks have well-written documentation to help you going forward.