The digital marketing industry has coined a new term to the business glossary called 'growth hacking'. You would not be here reading this article if you have not known about it. No worries if you are a beginner, I'll give you an idea of what it is. To make the becoming of growth hacking easier for you, we have listed out the 10 best growth hacking books that are penned by the big heads with their years of experience in the industry.
What is Growth Hacking?
'Growth hacking' is about helping Online businesses' growth with a kick start. A boost in the growth hacking gives the business to start the growth phase not necessarily from zero but from somewhere.
It is a cumulative workaround of the skillset, experience, and mindset of the growth hacker that defines the growth of the businesses.
How to Become a Growth-Hacker?
A growth hacker is a person with practical knowledge of the operational procedures of business online.
If you are a Freelancer or digital marketer and wanted to become a growth hacker, a product manager needs to have spent some quality time on the digital business models that gave you the right results.
Where would you start if you want to become a growth hacker?
Right from start? That's not how a growth hacker's mindset should be.
Reading growth hacking books will give you a let-in into the knowledge without spending much time on it. It will give you a quick peek of 'what's and 'how's of the whole process. By the way, this is how a growth hacker thinks; hacks into the knowledge bases through available tools.
The following order of the Best books on growth hacking is not ranked in the same order as they are displayed.
Top 10 Growth Hacking Books to Read in 2023
1. The Growth Hacking Book by Parul Agarwal, Rohan Chaubey & 30 more authors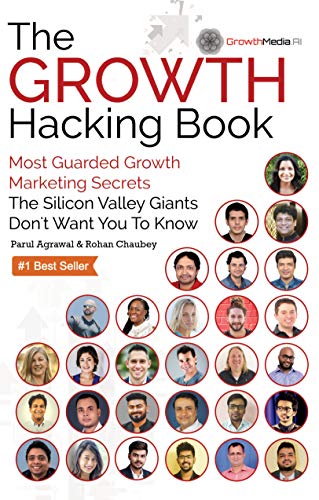 Breaking the ice about the secrets of Silicon Valley that no one would ever tell you, Parul Agarwal, the best-seller maker, and Rohan Chaubey, India's most-followed growth hacker, along with 30+ more industry experts have written this amazing masterpiece of cumulative knowledge about growth in digital media in various disciplines i.e Blogging, Content Writing and all. 
Needless to say that this book is still a best seller in multiple categories that include Digital Audio Editing, Content Management, Content Management Systems, Cloud Computing (Kindle Store), Development & Growth Economics, Computer Mathematics, Expert Systems, Client-Server Systems, Networks & System Administration, Computing, Internet & Digital Media, and Internet & Web in multiple countries on Amazon.
This success league has released the second version of this book featuring 100 authors this time breaking their records even before its release.
It stands top on the charts with just pre-orders yet.
You can buy this best growth marketing book in both Paperback and eBook editions from Amazon starting from just Rs.49, i.e., less than $1.
2. Hacking Growth: How Today's Fastest-Growing Companies Drive Breakout Success by Morgan Brown and Sean Ellis
This book believes that growth hacking is highly accessible and practical with the cooperation of cross-functional teams working together. 'Hacking Growth' focuses on the customers from the process of attaining them to monetizing them for the growth of the businesses.
It directs a way to set up a business strategy and building proactive operational teams for the ongoing processes of the strategies put to implementation.
You can get this book on Amazon in both eBook and Paperback copies starting from Rs.379 (less than $7). The audio version of this book is freely available on the same platform.
3. Growth Hacking: Silicon Valley's Best Kept Secret by Raymond Fong and Chad Riddersen
This book deconstructs the strategies and methods used by the Silicon Valley tech elite. The authors Raymond Fong and Chad Riddersen craft a blueprint of the growth hacking formula that is suitable for a variety of industries in terms of scalability.
The sharks in the industry suggest this book as a must-read for any business owner, a startup founder who is serious about growing their business.
Growth Hacking by Raymond Fong and Chad Riddersen is available on Amazon in both eBook and Paperback formats.
The kindle version is free for kindle unlimited subscribers and the price starts at Rs.195 (less than $3).
4. Growth Hacker Marketing: A Primer on the Future of PR, Marketing and Advertising by Ryan Holiday
If you are a new business owner aspiring to take the business online and get your first one thousand or million customers, this is the book you should read first. Ryan Holiday focuses on the strategies to grow your startup and new businesses on the growth pathway.
The author stresses on the businesses starting on digital media with zero budget.
It's a very good read for a beginner.
Growth Hacker Marketing is available on Amazon in both eBook and Paperback editions starting from the price tag of Rs.213 (around $3).
5. TOP 101 Growth Hacks: The best growth hacking ideas that you can put into practice right away by Aladdin Happy
Top 101 Growth Hacks is a hand-picked collection of growth hacking techniques written by Aladdin Happy.
He summarises this book by a vast knowledge of growth hacking blogs, web resources, tools, and books.
Aladdin mentions some exclusive growth hacks in this book that are not mentioned anywhere else.
If you are a newbie starting on digital platforms, this book will be a good beginning for you. This book is available on Amazon in eBook format only at Rs.449(~$7).
6. Disruptive Marketing: What Growth Hackers, Data Punks, and Other Hybrid Thinkers Can Teach Us About Navigating the New Normal by Colon

Focusing on business growth on digital networks, Disruptive Marketing, the best marketing books for beginners offers great knowledge and insights into how things are done from the impression phase to the action phase of the potential customer.
This book discusses the trends and predictions and features case stories and interviews with big-think marketers.
This book is available on Amazon in all eBook, Paperback, and audiobook formats, available at the starting price of Rs.932(~$13)
7. Growth Hacking For Dummies by Anuj Adhiya
Anuj is a growth thought leader who learned growth hacking from original growth hacking gurus. He pens this dummies guide, the most famous format of the book with a real deal of beginner needed knowledge.
He talks about iteration, constant testing, agile approaches, and flexible responses to your customers' evolving needs in this version.
This book is available in all formats starting at the price of Rs.309 (~$5)
8. Growth Hacking Your First Startup: A Simple Guide to Marketing for Entrepreneurs by Deepak Sharma
As the name suggests, Growth Hacking Your first Startup is written for start-ups and bootstrapped entrepreneurs.
This focuses on finding, retaining, and expanding the customer base for any kind of business established online.
Marketing funnels, customer journeys, gamification, and viral content tactics are discussed in this book.
This book is available on Amazon in both eBook and Paperback formats, available at the starting price of Rs.149(~$3)
9. Master Growth Hacking: The Best-Kept Secret of New-Age Indian Start-ups by Apoorva Chamaria
The author Apoorva Chamaria theorizes the combination of coding, data intelligence, and marketing as growth hacking.
This book addresses the growth of tech giants like Netflix, Hotmail, and Facebook and talks about smart data analytics and agility topics related to their growth.
This book is available on Amazon in both formats and is available at the starting price of Rs.165(~$3).
10. From Impossible To Inevitable: How Hyper-Growth Companies Create Predictable Revenue by Aaron Ross and Jason Lemkin
This book talks about the most successful growth template format that the world's successful companies are following.
It analyses the growth of companies like HubSpot, Salesforce, and EchoSign and extracts the working template of the business models. Aaron Ross and Jason Lemkin write this book for the smallest companies valued at $1 and bigger ones at $100,000.
'From impossible to Inevitable' is available in all formats on Amazon at the starting price of Rs.1,400(~$20).
Wrapping up
Are there no other books? There are. These are the best books for growth hacking to start with.
When these books could make up the list of 10 best growth hacking books, you could notice the practical proof of the marketing efforts that were implemented there.
Good luck with your growth hacking career.
Feel free to suggest in the comment section, if there are any titles that we missed out on.