In this post, we highlight a few of the best freelancer websites in India. These Freelance Websites include Upwork, Fiverr, and Freelancer, which offer a wide range of online jobs and have a 5-minute registration process;
As remote work is thrust further into the spotlight, creatives and marketing professionals are looking more and more for freelance work.
Whether creating a full-out freelance business or dabbling in freelancing as a side hustle, there is a lot of value in becoming a "gun-for-hire" to help businesses and blogs grow.
The thing is, though, breaking into the freelance biz is a tough nut to crack.
Fortunately, there are a lot of ways you can get your foot in the door and build a portfolio and a list of happy clients that help you reel in business effortlessly.
To help you get started, here are some excellent Freelance websites to get your first freelance jobs, build an impressive portfolio and grow your freelance business.
11 BEST Freelance Websites for Beginners in 2023
1. Fiverr – Freelance Services Marketplace for Businesses
While Fiverr may not pay the best initially, it is a great way to get some work under your belt and start to build some great examples to show prospective clients.
To get started, you simply visit the website, set up a "Gig" and wait for potential buyers to roll in. As you begin to boost your ratings and grow your clientele, you can up your prices and attract bigger business.
Make sure you follow up with your Fiverr clients after you complete a gig and ask that they provide a positive review.
That can give you a huge boost in business.
2. Upwork – Easiest Way Find Freelancing Jobs Online
This is another great resource to source freelancer jobs. You can find jobs in writing, web developers, freelance writer marketing, information technology, design, and a ton more.
Image – Jobs on Upwork – Source
The pay here is a bit higher than other freelance websites, but just like other sites, you'll need to prove yourself.
You'll also be up against other talents when you submit your name for a particular job, so make sure you offer a compelling argument and have a solid profile to show why you deserve the work.
3. Anthony Gaenzle Marketing
Anthony Gaenzle Marketing hires freelancers quite often to ramp up personnel and resources for larger client projects. You will be required to show your portfolio and be accepted, but if you are accepted, the pay is very competitive and can give a lift to your revenue.
Agencies such as Anthony Gaenzle Marketing also like to work with familiar contractors, so once you prove yourself on a project, this can become a steady stream of work.
Working with a marketing agency is a great way to get your freelance business off the ground. Just be careful not to present yourself as a competitor. Instead, present yourself as a partner.
By partnering with agencies like Anthony Gaenzle Marketing, you can effectively let the agency do the sales for you and then they'll just bring you in when your skillset gels with a particular project. And…of course…you get paid.
4. FlexJobs.com
Flexjobs.com is a job board where you pay for a monthly subscription and you can search for a variety of jobs available.
The ultimate focus of the site is to offer jobs that are remote, both fully and partially.
In addition to full-time and part-time roles, there are a lot of contract roles that are perfect for freelancers.
Image – Flexjobs.com for freelance work – Source
When you search for jobs, make sure you click on the contract button to ensure you receive more focused results. Otherwise, you will be filtering through all sorts of unrelated full-time and part-time roles.
One of the best things is that talent seekers using Flexjobs.com to source freelance, full-time or part-time help are willing to pay more.
So, get your portfolio in order and get started applying for roles.
5. Robert Half – The Creative Group
This is not the same thing as the aforementioned Granite Creative Group. Robert Half is a staffing agency, and just a handful of years back they created a branch of their company called The Creative Group that focuses on staffing needs related to creative positions.
Think digital marketing, writers, web designers, logo design, website development and other creative and technical roles.
There are tons of opportunities available for freelancers, and the staffing agency has a strong focus on hiring remote working professionals for their clients. The best part of this freelance platform is that you can connect with a recruiter, let them know what you are looking for, and they will send you relevant opportunities based on your profile, effectively doing a large chunk of the work for you.
image – Robert Half – The Creative Group – Source
This is another site where you can target higher paying freelance jobs. You'll likely find more jobs that are offered on a contract basis rather than traditional freelance. For example, you may connect with companies that are looking for a professional to help out for a month or two months and dedicate 10 or 20 hours per week rather than just one-off projects.
6. Freelancer.com – Hire & Find Jobs
This one is a no-brainer. It's in the name!
Major brands like Amazon, Facebook, IBM and even NASA (yes, that NASA) use Freelancer.com to source talent for a variety of projects.
Image – Freelancer.com for finding freelance jobs – Source
Just visit the site and then sign up via email or you can use your Facebook account to get set up. Once you are set up with an account, you can click on browse jobs and then bid on the jobs that fit your experience and niche.
There are some fairly high-paying freelance jobs on this site for people in technical, professional, and creative fields. So, opportunities abound on this website.
7. Flexiple: Hire Freelance Developers and Designers
Flexiple is a network of pre-vetted freelance software developers & designers. Through this network, we help top startups & companies find quality tech talent. Our goal is to help tech companies:
1. Find quality talent: Pre-vetted through our screening process.
2. Hire them quickly: Handpicked recommendations from our talent matching team
3. Onboard them seamlessly: Standard contracts, invoicing and project tracking. Basically, tech companies should only focus on building their products and not worry about hiring.
Similarly for freelance talent, we ensure they get to work with quality startups instead of wasting time in the job search.
8. LinkedIn ProFinder
LinkedIn is often looked at as a place to network and build your full-time career, but that's no longer the only focus for this professional social media channel.
Through LinkedIn's ProFinder tool, users can look up professionals who are offering various services and make connections. They can then source an RFP (from you if you stand out) and then select the best contractor or consultant for the work.
How do you get noticed? Great question!
You need to optimize your LinkedIn profile. First, you'll want to add to the services you provide in the relevant section of your account. Second, you'll want to drop keywords into your summary and other areas of your profile. Doing this will help your name pop up in searches related to the services you offer.
Image – Optimizing your LinkedIn profile – Source
Beyond being found through the ProFinder tool, you can also use LinkedIn for prospecting. Add a link to your portfolio on your profile, and then listen to conversations to catch mentions of services you offer.
When you come across someone struggling in an area where you can help, don't hesitate to reach out. LinkedIn is a great networking tool for professionals, even on a freelance basis.
9. Designhill
Designhill is a creative marketplace for sourcing graphic designers on a freelance basis. Users of this platform are seeking designers for projects like mobile apps, t-shirts, logos, flyers, and other promotional-type materials.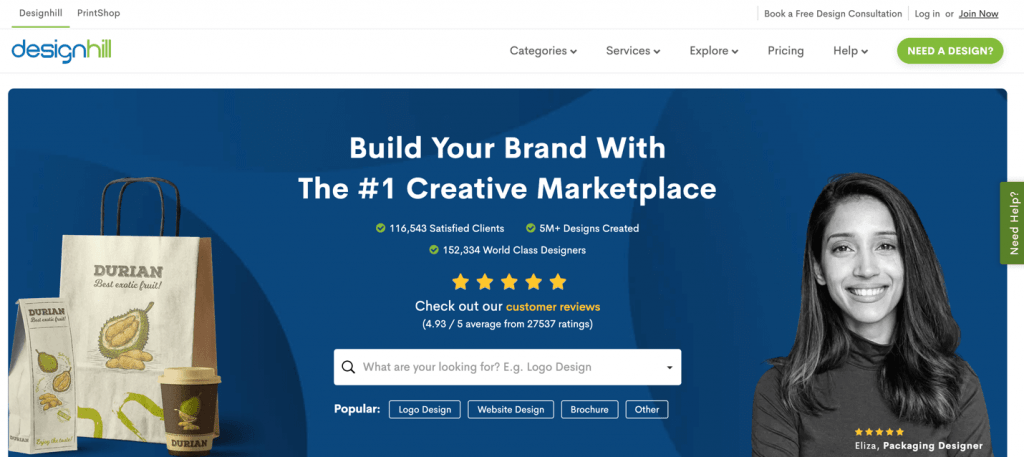 Image – Designhill for freelance designers – Source
Beyond being able to be considered for design projects, you can also take part in design contests where the "buyer" who is looking for design ideas can crowdsource concepts.
You look at the work the buyer needs, and you create and submit your best work. If you are selected, you get paid.
And one last perk. If you have creative work designed for print, like on t-shirts, for example, you can make your print concepts available for printing on the PrintShop section of the website. Then, when someone selects your concept to print on a t-shirt (or another item), you get paid.
This is definitely a great site to check out if your freelance niche is in the graphic design space.
10. We Work Remotely
As the name states, all jobs on this site are remote. This helps you avoid having to sift through a bunch of in-person jobs to get down to the remote work.
Image – We Work Remotely freelance jobs – Source
Users of this platform who are looking to hire freelancers are required to pay at least $299 to list a job. The objective of this is to weed out the low-paying talent seekers to ensure that freelancers using the site are paid properly.
As you can see in the screenshot above, major players like Google, Amazon, and Basecamp source freelancers on We Work Remotely, and unless you've been hiding under a rock for the last decade, you know that each of those brands has some deep pockets.
So, get your portfolio together and get your account set up. This is a great source for higher-paying gigs that you can't pass up.
11. Your Own Blog
Perhaps the best opportunity to get your freelance career off the ground is to be found via your own website. Today, anyone can create a website. And if you optimize that site for search and create amazing content, you can attract visits from people searching not only for the content you offer but also for your services.
Before helping to launch Granite Creative Group, I generated lots of freelance business through my website. In fact, I've generated $100,000s of revenue through my blog through the years.
Recently, for example, a lead came through my website who found a post about the Hub & Spoke content model that was recently posted on my blog. That lead was interested in applying that concept to a website rebuild their company was taking on.
That lead, who found me via an article that related to the work they needed to get done, ended up signing a $20,000+ project with the agency I now work for. And while I currently work on all leads that come through my site through the agency I now lead, leads like this coming through my blog weren't uncommon at all when I was freelancing either.
So, I highly recommend setting up your own blog and writing often. As you begin to build a presence in search, on social media, and on other digital channels, you'll start to see the freelance leads rolling through.
Wrapping it Up
If you're feeling frustrated about your freelance career, and maybe even regretting making the transition from the corporate 9-5 life, these best freelancing sites for beginners can help get your new career focus on track.
Start digging around and get your accounts set up. Once you're live, dedicate a portion of your day to searching the best freelancing websites for beginners in India listed above and applying to freelance roles that appear to be a fit.
Another thing you'll want to do is build a website featuring your services. When people are looking for any type of help, freelance or in whatever capacity, having a professional website with information about you, your work, and samples to showcase your talent can go a long way in launching your freelance career successfully.
Wherever you are along the freelance journey, stay focused and enjoy the ride. It can be bumpy at times, but ultimately, if you do it the right way, a freelance career can be extremely rewarding.
Anthony is the Founder of Anthony Gaenzle Marketing and author of Blogging for Business: Skyrocket Your Traffic, Grow Your Readership, and Boost Revenue. Beyond running the publication, Anthony works with small businesses, startups, and creative minds to help you grow. Throughout his 15+ years in the marketing and multimedia fields, he has worked with companies across a wide variety of industries and disciplines, achieving significant growth in brand awareness, lead generation, revenue and other critical areas. He also helps individuals build influence and thought leadership through powerful personal branding. Follow Anthony on Twitter or connect on LinkedIn.